The CCPA Group will be at the Sommet de l'élevage 2019
Sommet de l'élevage: the Europe's n°1 livestock show:
Some key figures about exhibition :
nearly 100,000 visitors,
1500 exhibitors specialized in the field of breeding and
2,000 animals.
64 Competitions (national or interregional) and animal presentations :
2,000 animals present: 750 beef cattle, 550 milk cattle, 400 sheep and 300 horses. (More info)
3 events and awards: Gold Summit Awards, Gold Farmers Award and Golden Sabots Trophy (More info)
71 Conferences (more information on the exhibition programme: View the full programme)

Where to find the CCPA team at the livestock show?
Throughout the exhibition you will be able to meet various CCPA Group specialists on our stand C 95 in Hall 1: View the map : (View the interactive map)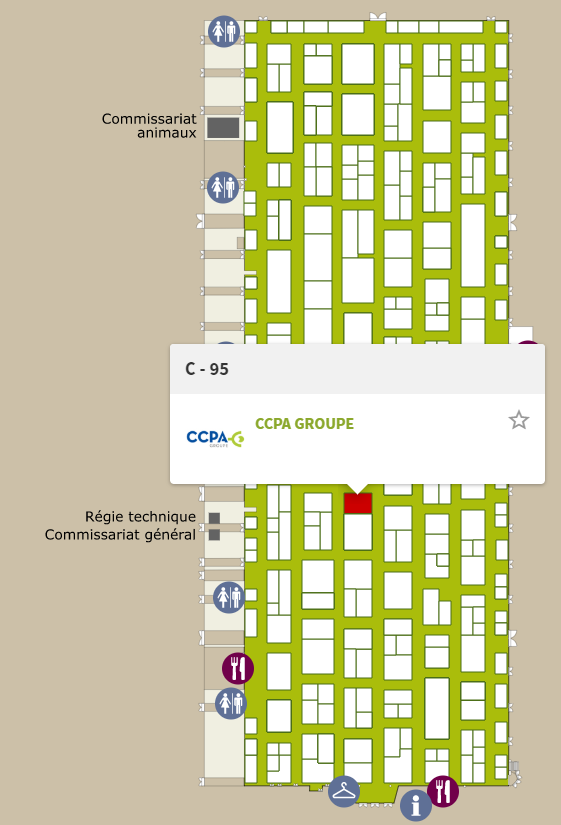 Our specialities presented at the Sommet de l'Elevage 2019 exhibition:
Axion® Start (ruminant) is formulated with plant extracts - including a patented baicalensis scutellaria extract - and vitamins, significantly improves milk production and persistence throughout lactation: +6% on average, and contributes to increasing the longevity of dairy cows.

VivActiv® (ruminant)is a nutritional technique that improves the value of proteins in ruminant rations. Including plant extracts and specific essential oils, VivActiv'® protects the protein from ruminal degradation and stimulates the activity of rumen flora, contributing to an increase in microbial proteins.

CréaScan®VL software (ruminant) automatically collects and interprets individual data from the performance control and fatty acids of tank milk. It makes it possible to detect any performance gaps (production, rate, etc.) and to adapt the feeding management of his herd, with the help of his technician-nutritionist. The software provides a complete diagnosis of production results, indicating the various explanatory factors and performance levers.

Axion® FeedStim (poultry) is mixed into poultry feeds or premixes, combines different sources of plant extracts.This nutritionnal solution encourages consumption and helps to maintain production performance, during challenging stages: at the start of laying, during heat stress.
Méga® Tender (poultry) significantly reduces the quality issues in meat encountered especially in rapid growth bloodlines: breasts with white striping, wooden breast and spongy or spaghetti meat.

Créa Win® (swine) stimulates the feed intake and improves your piglets performance, even with low level of copper.