ThermoTool™, the application that assesses the risk of heat stress on livestock farms
As of 24°C and 70% relative humidity, animals suffer from heat stress to the detriment of their well-being, which is damaging to the performance and profitability of livestock farms.
With this in mind, a specific application has been developed by the CCPA Group to determine the level of the risk of heat stress on the livestock farm: ThermoTool®. It can be downloaded free on App Store and Android and is a straightforward visual tool that allows livestock farmers to anticipate heat spikes up to 5 days in advance and take swift action if necessary, by adapting their practices and the nutrition of their livestock. It is also a practical application that can be used by all kinds of livestock farms, whether specialised or not in a specific product (meat, milk, eggs, etc.).
Its main characteristics
The tool is highly adaptable and reliable under the actual conditions of each livestock farm, based on temperature and hygrometry data from the international network of weather stations. What is more, ThermoTool® offers the option of adjusting the temperature/humidity indices manually, for greater accuracy of the heat stress diagnostic. This is especially useful for monogastric farms (pigs and poultry), because it is thus possible for them to adapt the tools to the actual conditions inside their buildings.
ThermoTool® gives a 5-day forecast, which enables farmers to anticipate heat spikes and adapt animal feed and livestock management accordingly to obviate any negative repercussions (dips in performance, health, well-being).
ThermoTool® is suitable for each animal species. Indeed, heat stress affects animal performance to varying degrees, depending on the species. To take this into account, over an above the Temperature Humidity Index (THI), ThermoTool® gives details of the level of risk of heat stress for each sub-category considered (dairy cattle, beef cattle, layers, broilers, etc.), by basing its calculations on risk level equations devised by species by the CCPA Group (R&D know-how and scientific bibliography).
ThermoTool® offers farmers advice on practices and nutritional solutions suited to the risk level detected. With ThermoTool®, nutritional input and recommendations are properly reasoned according to risk of heat stress on each livestock farm (link to Heat Stress Management page).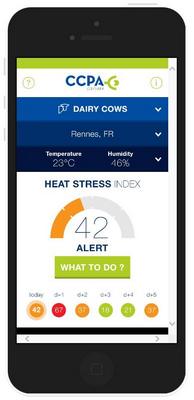 Download the application:
https://itunes.apple.com/us/app/thermotool/id981585161?mt=8
https://play.google.com/store/apps/details?id=com.mobizel.thermotool&hl=fr