VIVACTIV'®: Committed to better production
Because we only have one planet, the VIVACTIV'® range, a natural nutritional solution for ruminants, helps to feed people better by producing more milk and meat while limiting waste of resources and minimising the environmental footprint.
VIVACTIV'® has demonstrated, through trials, improved utilisation of raw materials and fodder for more profitable farming.
VIVACTIV'® is a complete offer of services and natural nutritional solutions validated by numerous tests in partnership with international research institutes.
READ MORE. The nutritional approach to ruminants
What is VIVACTIV'® technology?
VIVACTIV'® is a complete range containing natural, traceable phytogenic products that
improves digestive efficiency
through a dual action on the rumen and intestine.
VIVACTIV'®, a complete product range to optimise all types of rations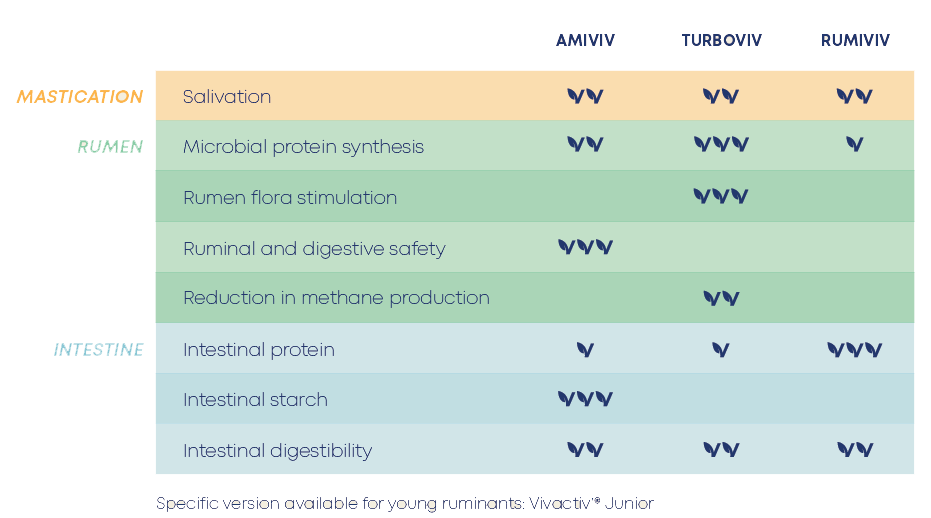 VIVACTIV'® improves food efficiency and production performance
Through VIVACTIV® technology, save protein and energy inputs and reduce feed costs. Ask our experts to conduct a simulation based on your circumstances.
With VIVACTIV'®, you can choose between 4 strategies for use depending on the ultimate aim:
Maintaining production level while reducing rations costs
Increasing production using the same resources
Substituting for some costly raw materials
VIVACTIV'® reduces the environmental footprint of the feed
With Vivactiv'®, reduce the greenhouse gases that contribute to global warming and limit nitrogen wastes that pollute waterways and soil.
Utilisation of local raw materials
Reduction in Greehouse Gases
Reduction in nitrogen waste
For 1 million litres of milk produced with VIVACTIV'® means a reduction in emissions of 1.5 tonnes of methane or 42 kg of CO2 equivalent.
VIVACTIV'® reduces ammonia emission by 10%* I.e. for 100,000 cows: 14000T of soybean meal and 300T less ammonia discharged per year at the same performance level.