Demeus: To insure your success with weaned piglets!
With Demeus® app, use without in-feed antibiotics feed without a care! ​
Demeus® App is design for you the farm nutritionnist, advisor! It helps you to implement a successful demedication with your farmers so as to ensure good performances without in-feed antibiotics. With Demeus® App you:
Draw a clear picture of the farm situation
Highlight the top priority of work
Guide the farmer toward the most adequate nutrition
READ MORE. IMMAX®, secures piglet's gut for optimal health and growth in post-weaning
Demeus®, the demedication in 4 steps
Demeus® supports your advices with your farmers thanks to four-step approach.
1. A survey structured around the demedication essentials.
2. An evaluation of the farmer habits on each category to determine its success without in-feed antibiotics.
3. Feed personalized advice
4. A follow-up and a valorisation of the farmers progress thanks to a central database of the results.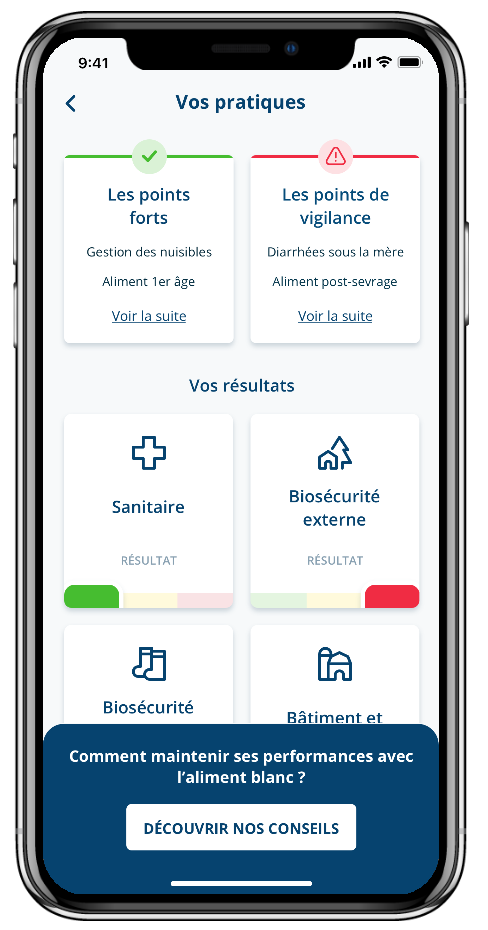 Demeus® App in practices
From your tablet or cellphone, search «Demeus®» on the Play Store or App Store and click « Install ». Beforehand, contact your CCPA preferred contact who will guide you. Once the app downloaded, you can start. We are committed to respect and protect your personal data (RGPD conditions insured) !
App available in English, French, Spanish and Portuguese
A simple and straightforward survey
A carefully designed ergonomics for intuitive use
Feed program advice tailored to live results
Live nutritional advices adaptated to the results
If you have any questions or requests, please do not hesitate to contact us!