The CCPA Group, an Early Sponsor of the World Poultry Congress, is publishing four scientific posters
The CCPA Group, a specialist in animal nutrition, is taking part in and sponsoring the 26th edition of the World's Poultry Congress to be held at the Palais des Congrès in Paris from 7 to 11 August 2022. This event will allow the Group the opportunity to present the latest results of its scientific work.
The World Poultry Congress (WPC) will host more than 3,000 experts from all around the world, scientists, industrial concerns and researchers, to share, learn and network. The common objective: to foster the progress of research and innovation in any and all fields pertaining to the poultry sector.
The CCPA Group has been associated with this event since 2016, both as a partner actively involved in the organising committee and as an Early Sponsor of the event. "We continue to be loyal to the WPC, which has had to be postponed twice owing to the Covid situation", points out Catherine Hamelin, a poultry specialist.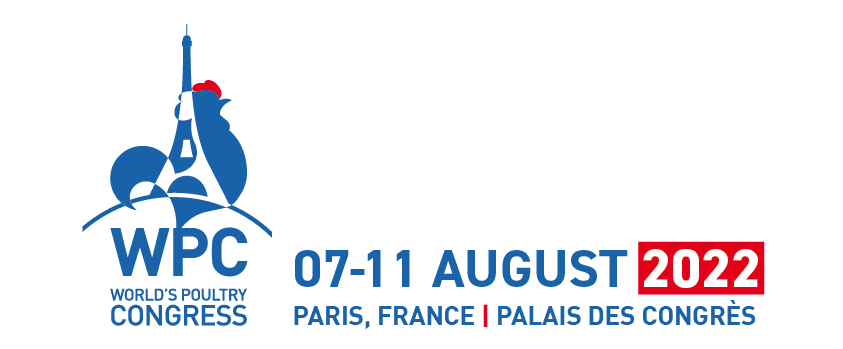 The CCPA Group intends to make the most of the opportunity presented by this event to share the latest results of its research in four studies that assess:
1-
The effect of a supplementation of laying hens at the end of the laying period with a combination of sodium butyrate, calcium lactate and trace elements to improve eggshell quality while maintaining laying performance. The study shows significant improvements, probably through an improved gut health and higher mineral absorption.
2-
The efficiency of a diet promoting satiety and neurotransmitter modulation to animal welfare by decreasing feather pecking behavior while improving egg weight in intact-beaked laying hens.
3-
The impact of the dietary intake of indigestible crude protein on the risk of footpad dermatitis in broilers. A formulation with a low level of non-digestible crude protein alleviates the severity of cases of footpad dermatitis from the age of 29 days and improves performance during finishing and the period of general growth, which are probably linked to better intestinal health.
4-
The interest of Feedstim® Poultry to reduce the frequency of heat stress related behaviors such as open beaks and wing spreading. The results show effects being more pronounced during the acute phase of heat stress.
These four posters are only accessible to Congress registrants:
"Interest of a blend based on Sodium Butyrate in Improving Eggshell Strength" presented by Mélanie Mireaux.
"Effet of Dietary Indigestible Crude Protein Supply on the Development of Footpad Dermatitis in Broilers Over Time" presented by Panagiotis Sakkas.
"Offering a combination of plant extracts mitigates the adverse effects of heat stress on broiler behavior" presented by Panagiotis Sakkas.
"Increased dietary fiber, protein and tryptophan levels reduces feather pecking behavior in cage-housed intact-beaked laying hens" presented by Catherine Hamelin.