IPPE: International Production & Processing Expo for the poultry, meat and animal feed industry
This international event brought together more than 30,000 visitors and 1,300 exhibitors in 2018, with more than 7,000 international visitors from more than 124 countries.
Latin America represents the largest region of international visitors, but there is a continuous growth of Europeans. Canada is the largest country outside the United States in terms of the number of participants.

The 2019 edition will be divided into 3 halls:
Exhibit Hall A (green): Feed equipment and feed ingredient
(where you will find the CCPA team / Nutristar International)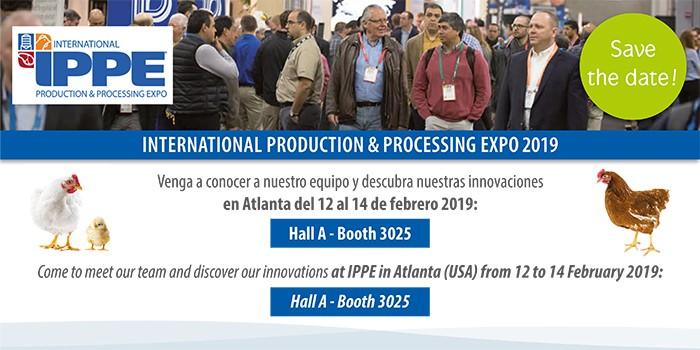 Exhibit Hall B (red) : Meat and Poultry, Processing / Packaging
Exibit Hall C (blue) : Genetics, incubation, live production / Eggs production and processing
Axion® FeedStim, our flagship product at IPPE 2019
Axion® Feedstim is an innovative food solution that combines antioxidant and anti-inflammatory plant extracts (including Scutellaria Baicalensis) to maintain the performance of broilers in difficult situations (end of fattening, high sanitary pressure, etc.).
Axion® FeedStim improves feed efficiency through more regular feed consumption and faster animal recovery. It has demonstrated its global interest in improving food intake and animal health by limiting the use of antibiotic growth promoters.
Useful information on the International IPPE 2019 exhibition:
Where to find our team at the CCPA Stand - Nutristar International?
We are in Exhibit Hall A, just after the entrance, at booth 3025: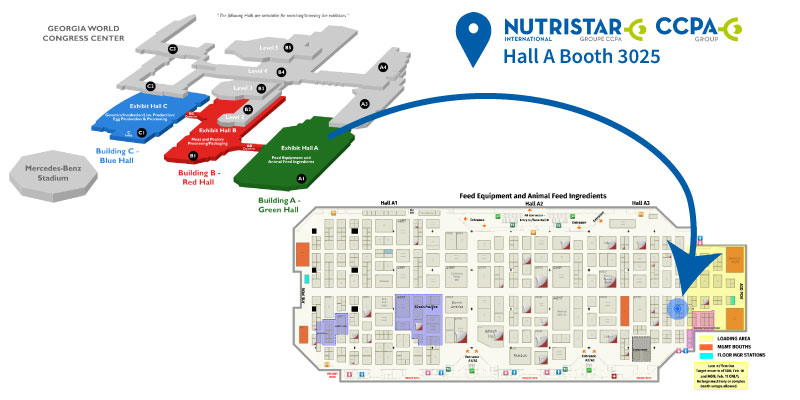 View the interactive map
What is the programme for the 2019 edition?
Conference on pet food
Latin American Poultry Summit (Read our article about Nutristar International in Latin America)
International Poultry Science Forum
Conference on worker safety for the meat and poultry industry
Conference on the environment for the meat and poultry industry
Impact of production and processing on quality, with live cutting demonstrations
Food Education Program
Regulatory issues and compliance update for meat and poultry processors
Trade Information Forum
TECHTalks: On-site sessions present the latest product and process innovations
Workshop on meat quality: packaging, colour and shelf life (Read also our article on finished product quality)
How to get to IPPE 2019 (Atlanta, United States)
By plane:
Atlanta Aiport : More information
DELTA AIR LINES offer: Benefit from a discount of up to 10% off the applicable air fares for IPPE 2019 participants. View the offer
#CCPA #Deltavit #IPPE2019 #poultry #AxionFeedStim