The CCPA Group will be present at SPACE 2019!
Some key figures on this event specialized in Animal Productions:
Year of creation: 1986
Duration: 4 days, this year Tuesday 10 to Friday 13 September 2019
Frequency: Every year (early September)
Number of visitors expected: more than 108,000 (including 14,000 of different nationalities)
Number of registered exhibitors: 1,400 exhibitors from 38 countries
16 ha of exhibition area
11 halls
750 exposed cattle, sheep and goats​
Where does SPACE 2019 take place?
At the Parc-Expo in Rennes, France.
> View the map
Where to find our CCPA Group team ?
Come and meet us at HALL 9 - Stand A17!
The plan of the Space 2019 with the locations and access to the various halls, the ring, etc. :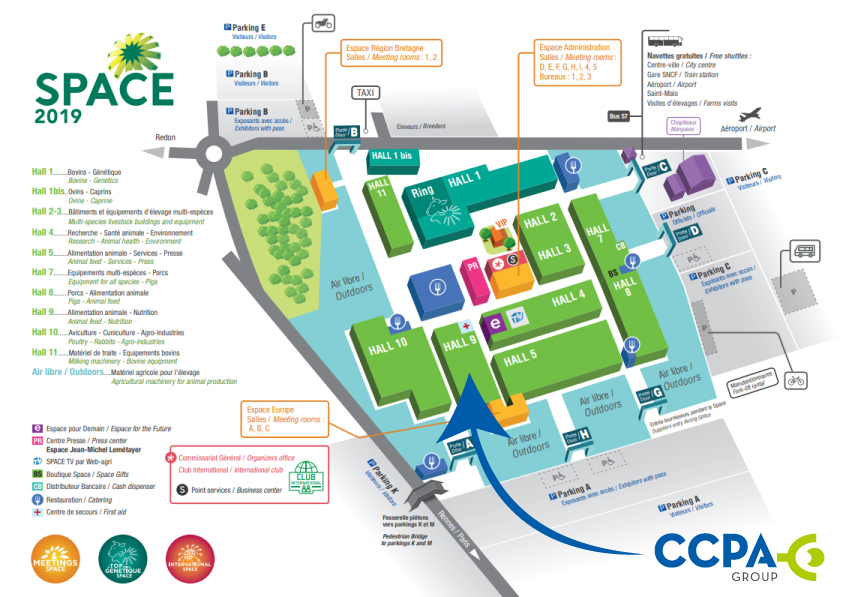 Which CCPA products are presented at the show?
Ruminants
Axion® Start, new research results and field evidence.
Axion® Start, formulated with plant extracts - including a patented baicalensis scutellaria extract - and vitamins, significantly improves milk production and persistence throughout lactation: +6% on average, and contributes to increasing the longevity of dairy cows. This nutritional solution can be incorporated into the VL production food, the nitrogen corrector or added to the Delta®AxionStart dietary food, as a top feeding on the ration.
A trial on an experimental farm conducted in 2017, in partnership with Dr. Barry Bradford's research unit at the University of Kansas (USA), tested the effect of Axion®Start supplementation on 80 multiparous dairy cows after calving. The trial showed a significant increase in milk production of 13% over the 17 weeks of lactation and a decrease in somatic cells, even in animals with low cell counts: 90,000 cells in the test lot versus 155,000 cells in the control lot.
In parallel, a trial conducted by Professor Frédéric Dessauge of INRA Rennes revealed that scutellaria baicalensis, contained in Axion®Start, stimulated, at controlled dose, the proliferation of mammary epithelial cells and reduced the permeability of the epithelial wall, thus reinforcing the integrity and longevity of mammary cells. Through its complementary modes of action, Axion®Start therefore contributes to improving the production, dairy persistence and quality of cow's milk.

VivActiv'®, maximise protein yield at ruminal and intestinal level
Based on the CCPA Group's phyto-expertise and more than 15 years of field experience, VivActiv'® is a nutritional technique that improves the value of proteins in ruminant rations.
Including plant extracts and specific essential oils, VivActiv'® protects the protein from ruminal degradation and stimulates the activity of rumen flora, contributing to an increase in microbial proteins. The result is an increase in PDIA and PDIM. Compared to protein protections such as formaldehyde and xylose, VivActiv'® has always been at least as effective. Some trials even show higher milk production and lower feed costs. VivActiv'® has been tested worldwide on different rations and animals (dairy cows, lactating cattle, goats and sheep). It is used either to increase milk production or GMQ, or to reduce rationing costs by limiting the intake of certain protein sources (soya, rapeseed).
In addition, the VivActiv'® technique also acts on the rumen flora by increasing energy. By improving feed efficiency, protein waste is limited and ammonia production reduced, with a clear benefit for the environment. VivActiv'® has demonstrated its profitability and is currently successfully used in many farms around the world, with more than one million tonnes of feed including this technique in 2018.
CréaScan®VL, l'outil d'aide à la décision référent en élevage laitier.
The CréaScan®VL software automatically collects and interprets individual data from the performance control and fatty acids of tank milk. It makes it possible to detect any performance gaps (production, rate, etc.) and to adapt the feeding management of his herd, with the help of his technician-nutritionist. The software provides a complete diagnosis of production results, indicating the various explanatory factors and performance levers.
The tool evolves each year, with regular updates and updates, according to users' requests, the progress of zootechnical knowledge and new technological means. From January 2020, CréaScan®VL will integrate economic data (gross margin, food cost, etc.) from the Chorus®Ruminant 4.0 rationing software. In 2019, a significant amount of daily data collection work - such as milk production (via robots and milk meters in particular) - was also carried out, with tests underway in the farms of the CCPA reference farm network.
> View digital innovations by CCPA
Poultry
Axion®FeedStim
It's mixed into poultry feeds or premixes, combines different sources of plant extracts.This nutritionnal solution encourages consumption and helps to maintain production performance, during challenging stages: at the start of laying, during heat stress...
Proven benefits*:
Stimulates ingestion,
Improves FCR: -5%,
Improves the rate of lay: +2%,
Improves ADG: +10%.
Méga® Tender
A nutritional additive incorporated in poultry feed, Méga® Tender improves the visual and technological quality of the meat thanks to the synergy of the plant extracts and antioxidants in its formula.
Méga® Tender significantly reduces the quality issues in meat encountered especially in rapid growth bloodlines: breasts with white striping, wooden breast and spongy or spaghetti meat.

Swine
Créa® Win, stimulates feed intake and weight gain piglets in post-weaning
The lowered levels of copper in piglet feeds are now effective. Impact for the producers: decrease of feed intake and growth. CreaWin stimulates the feed intake and improves your piglets performance, even with low level of copper.
Discover the SPACE 2019 program:
This year the Space offers many: conferences, Ring, breeding visits and Job dating!