Fabrice Robert's workshop at Prohealth (Belgium)
Published 26/11/2018
Our specialist Fabrice Robert, Head of R&D department and Veterinary (CCPA Group) will present a workshop on Nutritional strategies to preserve health and performance and reduce antibiotics (also read : "Supporting animal health and performance by limiting antibiotic use" )


ProHealth is an EU-supported and funded project on animal health and welfare.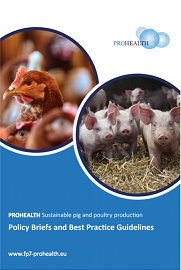 The project started in December 2013 and ends in November 2018(view project presentation) with a technical seminar for stakeholders in the sectors and a scientific symposium on 27 and 28 November 2018 in Ghent, Belgium.

On Tuesday, November 27, various workshops (swine and poultry) will be held, including Fabrice Robert.


Themes to be discussed on Tuesday in the workshop include

About swine :
Nutritional strategies (health, performance and reduce antibiotics)
Biosecurity
Neonatal mortality
Role of hygiene
Prediction using (big) data
Economic costs of production diseases

About poultry :
Biosecurity
Escherichia coli infections
Reassessment of the vitamin D
Egg disinfection protocols
Novel markers for production diseases
Economic costs of production diseases
Wednesday, November 28, 2018 is dedicated to the Scientific Symposium.
The themes of biosecurity in pigs and poultry and neonatal survival can be found.
Other topics:
Predicting the effects of the environment
Leg disorders
Production diseases (in particular : economic consequences of novel solutions, control of production diseases).
A topic on the use of probiotics to restrict antibiotics use in chickens will also be discussed.
The speakers are:
Poultry specialists:
Ilias Kyriazakis
Tommy Van Limbergen
Jens Peter Christensen
Panagiotis Sakkas
Sotiris Papasolomontos
Sara Perez
Tim Giles
Philip Jones
Ivan Rychlik
Filip Van Immerseel
Swine specialists:
Sandra Edwards
Ilias Chantziaras
Fanny Pandolfi
Vivi Aarestrup
Nathalie LeFloch
Carlos Pineiro
Fabrice Robert
Jarkko Niemi
Hélène Quesnel
Marie Christine Salaün
Neil Foster
Beth Clark
Jarkko Niemi
Peter Davies
More information : event and Prohealth project